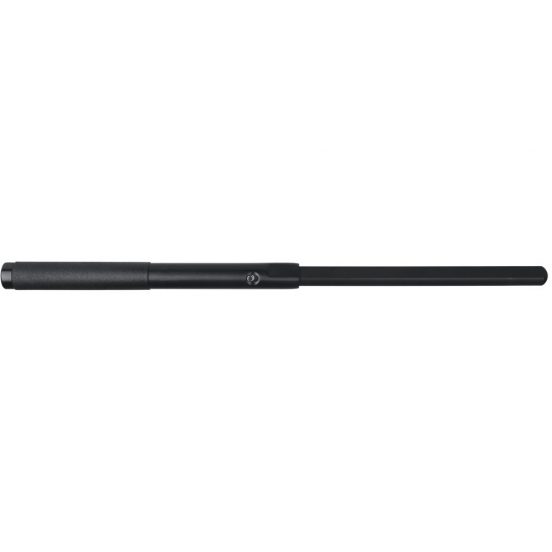 SKU:

MX
MX Expandable Straight Baton
The MX expandable straight baton has a pin-positive push button mechanism to keep it from collapsing until you need it to. It features a weight forward shaft technology that provides for increased "knock-down" effectiveness. Foam grip with polycarbonate shaft. Includes insert.
Options
| Product ID | Model | Baton Length |
| --- | --- | --- |
| 1000101 | MX-21 | 21" |
| 1000102 | MX-24 | 24" |
Uses a pin and spring to create a mechanical (or positive locking) mechanism that keeps baton open and makes it easy to close
Baton locks in handle and may be locked in the extended open position with the push of a button
Weight-forward shaft technology for increased "knock-down" power
Aluminum polycarbonate composition impervious to rusting
Available in 1″ diameter
Limited Lifetime Repair or Replacement Guarantee
Made in the USA
Batons should be sized proportionally to the Officer's height. One of the common misconceptions is a longer baton is better. Normally, if an Officer is given a baton that is too large for them they will naturally find the proper balance point for grip….much like a baseball player will "choke up" on a bat that is too large. By "choking up" the Officer has to overcompensate for the improper length and will move their grip up on the handle several inches negating the length advantage.
Recommended Baton Lengths Based on Officer Height
This is not a firm rule, rather a recommended guideline.
| Height | Baton Size |
| --- | --- |
| Under 5'6″ (1.7m) | 16″ (40.64 cm) – 18″ (45.72 cm) |
| 5'6″ – 6′ (1.7m – 1.8m) | 21″ (53.34 cm) – 22″ (55.88 cm) |
| Over 6′ (1.8m) | 26″ (66.04 cm) |
Monadnock Return and Repair Service Policy:
Monadnock batons are manufactured with care and precision, and are backed by a limited lifetime warranty. However, should you experience any issues with a baton product, you can return it to our repair shop where our team of experts will diagnose and/or repair the baton. Repair service is subject to a processing fee of $20.00.
Here's how to submit a claim:
Contact Customer Care at 800.347.1200 to receive an RMA number. Print the provided shipping label; be sure to include the RMA number on the exterior of the package. We will inspect your item and give you options for getting it fixed.
This return policy applies to US customers; International customers please contact customer care.